BSDA Certification Study DVD
Product Description
Essential tools for your BSD Associate certification
Here is the complete collection of all four of the BSD operating systems, their applications, and guides in a single handy reference. Simply select which BSD to install from the boot menu on the DVD and you have all the essential tools to prepare for the BSDA certification.
This version of the DVD includes the QEMU and AQEMU virtual environments, allowing one to install and network all of the four BSDs as guest operating systems on one FreeBSD host. Details for installing and using this virtual environment are available at the BSDA Wiki.
Note: This edition of the DVD is for the i386 (32-bit) architecture so it can work in any virtual environment.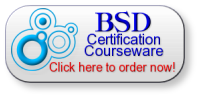 DVD Contents
FreeBSD 9.0, including ports collection
NetBSD 6.0, including pkgsrc
OpenBSD 5.2, including packages
DragonFly BSD 3.2.1 including pkgsrc
BSDA Exam Objectives (pdf)
BSDA Command Reference (pdf)
Psychometrics Explained (pdf)
BSDA Task Analysis Survey Report (pdf)
BSD Usage Survey Report (pdf)
BSDA Test Delivery Survey Report (pdf)
BSDP Job Task Analysis Survey Report (pdf)
BSDP Certification Requirements (pdf)
FreeBSD Handbook (pdf)
The Complete FreeBSD (pdf)
NetBSD Guide (pdf)
DragonFly BSD Guide (pdf)
pkgsrc Guide (pdf)
OpenBSD FAQ (txt)
Latest draft of the wiki version of the BSDA Study Guide (pdf)